Objectives 
To foster the development of new generation instrumentation for the needs of the atmospheric electric field (AEF) research community. To pursue the development of a new satellite product for the remote sensing of PG. 
Tasks 
Identification of sensor needs, development of new instruments, introduction of new techniques, smaller and cheaper sensors, miniaturization of sensors, development of instrumentation that will allow the hi-res (on a ~m scale) spatial mapping of AEF, etc. Satellite product development.
Contact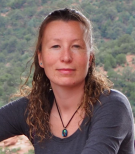 Dr Keri Nicoll
Department of Meteorology, University of Reading, United Kingdom
[email protected]

Resume:
Keri is a NERC Independent Research Fellow in the Department of Meteorology at the University of Reading. She is a member of the Space and Atmospheric Electricity Group, working on a project entitled "Understanding charged particle effects on atmospheric processes". Keri also has a BSc Hons in Physics with Meteorology from the University of Edinburgh.
Research Interests:
Space weather effects on atmospheric processes
Atmospheric electricity
Balloon measurements of meteorological parameters
Instrumentation development
Aerosol charging
Volcanic ash measurements
Using unmanned aerial vehicles (UAVs) for atmospheric research
 
If you want to participate in this Working Group, contact the WG Leader here.